ЦИБУЛЯ РІПЧАСТА (ALLIUM CEPA L.) ЯК ТЕСТ-РОСЛИНА
Ключові слова:
Allium cepa, Allium-тест, фітотестування, фітотоксичні індекси
Анотація
Фітотестування застосовується здавна для визначення якості насіння, родючості ґрунтів сільськогосподарського використання, в біомедичних дослідженнях та не так давно у природоохоронній сфері для оцінки екологічної якості природних середовищ (води, ґрунтів). Різні представники рослин використовуються як модельні тест-організми, зокрема, цибуля ріпчаста (Allium cepa L.) розглядається як стандартна рослина для визначення токсикантів.
Мета роботи - узагальнення методичних підходів використання цибулі ріпчастої (Allium cepa L.) у фітотестуванні токсикантів.
Методологія. У ході дослідження використано методи: 1) загальнонаукові методи (методи теоретичних досліджень доступної інформації); 2) аналітичний та узагальнений методи (для аналізу наукових і літературних джерел з поставленої проблеми); 3) емпіричний (для накопичення фактів); 4) методи аргументування (для доведення власних суджень).
Наукова новизна - узагальнено методичні підходи використання цибулі ріпчастої у фітотестуванні токсикантів, представлено формули для розрахунків фітотоксичних індексів (індексу довжини корінців, фітотоксичного ефекту розчинів, індексу токсичності розчинів для кожної тест-функції, середнього індексу токсичності досліджуваних розчинів).
Висновки - фітотестування є загальновживаним методом оцінки екологічної якості природних середовищ (води, ґрунтів), природних та синтетичних біоактивних сполук, який базується на чутливості рослин до зовнішнього хімічного впливу, що може викликати зміни фенотипічних та генотипічних характеристик. Стандартною тест-рослиною для визначення токсикантів є цибуля ріпчаста (A. cepa), яка використовується у ростовому тесті та Allium-тесті. Найбільш чутливими показниками цибулі при дослідженнях токсикантів є мітотична активність клітин апікальної меристеми та частота клітин з хромосомними абераціями.
Завантаження
Дані завантаження ще не доступні.
Посилання
Abu Ngozi, E., & Mba, K.C. (2011). Mutagenecity testing of phamarceutical effluents on Allium cepa root tip meristems. Journal of Toxicology and Environmental Health Sciences, 3(2), 44-51.
Alov, I.A. (1972). Citofiziologiya i patologiya mitoza. Moscow, USSR: Medicine.
Алов И.А. Цитофизиология и патология митоза. Москва: Медицина, 1972. 264 с.
Aranda, E., Garća-Romera, I., Ocampo, J.A., Carbone, V., Mari, A., Malorni, A., Sannino, F., De Martino, A., & Capasso, R. (2007). Chemical characterization and effects on Lepidium sativum of the native bioremediated compoments of dry olive mill residue. Chemosphere, 69, 229-239.
Atlas po anatomii rastenii (2001) / G.A. Bavtuto, V.M. Eremin, M.P. Jigar. Minsk, Belarus: Uradjai.
Атлас по анатомии растений / Г.А. Бавтуто, В.М. Еремин, М.П. Жигар. Минск: Ураджай, 2001. 146 с.
Bagdasaryan, A.S. (2005). Biotestirovanie pochv tehnogennyh zon gorodskih territorii s ispol'zovaniem rastitel'nyh organizmov: dis… kand.biol.nauk: 03.00.16 [Biotesting of soils in technogenic zones of urban areas using plant organisms: dissertation ... cand. biol. sciences: 03.00.16]. Stavropol, Russian Federation: Stavropol State University.
Багдасарян А.С. Биотестирование почв техногенных зон городских территорий с использованием растительных организмов: дис… канд.биол.наук: 03.00.16 / Ставропольский государственный у-нт, Ставрополь, 2005. 159 с.
Bagur-González, M.G., Estepa-Molina, C., Martín-Peinado, F., & Morales-Ruano, S. (2011). Toxicity assessment using Lactuca sativa L. bioassay of the metal(loid)s As, Cu, Mn, Pb and Zn in soluble-in-water saturated soil extracts from an abandoned mining site. Journal of Soils and Sediments, 11, 281-289.
Baran, A., Jasiewicz, C., & Antonkiewicz, J. (2009). Testing Toxicity of Oily Grounds Using PhytotoxkitTM Tests. The First Joint PSE-SETAC Conference on Ecotoxicology (Krakow, Poland, 16-19 September 2009). Book of Abstracts, poster.
Berhin, A., de Bellis, D., Franke, R. B., Buono, R. A., Nowack, M. K., & Nawrath, C. (2019). The Root Cap Cuticle: A Cell Wall Structure for Seedling Establishment and Lateral Root Formation. Cell, 176(6), 1367–1378.e8.
Bohuslavska, L., & Tykhomyrov, A. (2005). Vplyv ioniv vazhkykh metaliv na mitotychnyi indeks apikalnoi merystemy korenia kukurudzy [Effect of heavy metal ions on the mitotic index of the apical meristem of the maize root]. Visnyk Lvivskoho universytetu. Ser. Biol. - Bulletin of Lviv University. Ser. Biol., 40, 160–165.
Богуславська Л., Тихомиров А. Вплив іонів важких металів на мітотичний індекс апікальної меристеми кореня кукурудзи. Вісник Львівського університету. Сер. Біол. 2005. Вип. 40. С.160–165.
Cai, X., & Ostroumov, S.A. (2021). Finding of toxicity of herbal shampoo to plant seedlings: phytotest of mixture product that contains membranotropic chemicals as components. Ecologica, 28(101), 6-10.
Cauhan, L.K.S., Saxena, P.N., & Gupta, S.K. (1999). Cytogenetic effects of cypermetrin and fenvalerate on the root meristem cells of Allium cepa. Environ. Exp. Bot., 42, 181–189.
Chen, C., Zhou, Q., Bao, Y., Li, Y., & Wang, P. (2010). Ecotoxicological effects of polycyclic musks and cadmium on seed germination and seedling growth of wheat (Triticum aestivum). Journal of environmental sciences (China), 22(12), 1966–1973.
Constantin, M.J., & Owen, E.T. (1982). Introduction and perspectives of plant genetic and cytogenetic assay. A report of US EPA Gene-Tox programme. Mutation Research, 99, 1–12.
Czerniawska-Kusza, I., Ciesielczuk, T., Kusza, G., & Cichon, A. (2006). Comparison of the Phytotoxkit microbiotest and chemical variables for toxicity evaluation of sediments. Environmental Toxicology, 21(4), 367-372.
De Rainho, C.R., Kaezer, A., Aiub, C.A.F., & Felzenszwalb, I. (2010). Ability of Allium cepa L. root tips and Tradescantia pallida var. Purpurea in N-nitrosodiethylamine genotoxicity and mutagenicity evaluation. Annals of the Brazilian Academy of Sciences, 82(4), 925-932.
Dovgalyuk, A.I., Kalinyak, T.B., & Blyum, Ya.B. (2001). Ocenka fito- i citotoksichnoi aktivnosti tyajelyh metalov i alyuminiya s pomosch'yu kornevoi apikal'noi meristemy luka [Assessment of phyto- and cytotoxic activity of heavy metals and aluminum using the root apical meristem of onion]. Citologiya i genetika - Cytology and genetics, 35(1), 3–9.
Довгалюк А.И., Калиняк Т.Б., Блюм Я.Б. Оценка фито- и цитотоксичной активности тяжелых металлов и алюминия с помощью корневой апикальной меристемы лука. Цитология и генетика. 2001. 35, №1. С. 3–9.
Dovgalyuk, A.I., Kalinyak, T.B., & Blyum, Ya.B. (2001). Citogeneticheskie effekty solei toksichnyh metalov v kletkah apikal'noi meristemy kornei prorostkov Allium cepa L. [Cytogenetic effects of salts of toxic metals in the cells of the apical meristem of the roots of Allium cepa L. seedlings]. Citologiya i genetika - Cytology and genetics, 35(2), 3–10.
Довгалюк А.И., Калиняк Т.Б., Блюм Я.Б. Цитогенетические еффекты солей токсичных металов в клетках апикальной меристемы корней проростков Allium cepa L. Цитология и генетика. 2001. 35, №2. С. 3–10.
Fatma, F., Verma, S., Kamal, A., & Srivastava, A. (2018). Phytotoxicity of pesticides mancozeb and chlorpyrifos: correlation with the antioxidative defence system in Allium cepa. Physiology and molecular biology of plants: an international journal of functional plant biology, 24(1), 115–123.
Fiskesjо, G. (1985). The Allium test as a standard in environmental monitoring. Hereditas, 102, 99-112.
Gostimskii, S.A., D'yakov, M.I., Ivanovskaya, E.V., & Monahova, M.A. (1974). Praktikum po citogenetike [Workshop on cytogenetics.]. Moscow, USSR: Moscow State University.
Гостимский С.А., Дьяков М.И., Ивановская Е.В., Монахова М.А. Практикум по цитогенетике. Москва: МГУ, 1974. 275 с.
Gvozdenac, S., Inđić, D., & Vuković, S. (2013). Phytotoxicity of Chlorpyrifos to White Mustard (Sinapis alba L.) and Maize (Zea mays L.): Potential Indicators of Insecticide Presence in Water. Pestic. Phytomed. (Belgrade), 28(4), 265–271.
Horon, M., Dzhura, N., Romaniuk, O., Shevchyk, L., Senechyn, N., & Terek, O. (2012). Fitotestuvannia yak ekspres-metod otsinky toksychnosti naftozabrudnenykh gruntiv [Phytotesting as an express method of assessing the toxicity of oil-contaminated soils]. Visnyk Lvivskoho universytetu. Seriia biolohichna - Bulletin of Lviv University. Biological series, 58, 185–192.
Горон М., Джура Н., Романюк О., Шевчик Л., Сенечин Н., Терек О. Фітотестування як експрес-метод оцінки токсичності нафтозабруднених ґрунтів. Вісник Львівського університету. Серія біологічна. 2012. Випуск 58. С. 185–192.
Hrodzynskyi, D.M., Shylina, Yu.V., Kutsokon, N.K. et al. (2006). Zastosuvannia roslynnykh test-system dlia otsinky kombinovanoi dii faktoriv riznoi pryrody: Metodychni rekomendatsii po otsintsi dopustymykh rivniv radionuklidnoho ta khimichnoho zabrudnennia za yikh kombinovanoi dii [The use of plant test systems for the assessment of the combined effect of factors of different nature: Methodological recommendations for the assessment of permissible levels of radionuclide and chemical pollution due to their combined effect]. Kyiv, Ukraine: Phytosocial Center.
Гродзинський Д.М., Шиліна Ю.В., Куцоконь Н.К. та ін. Застосування рослинних тест-систем для оцінки комбінованої дії факторів різної природи: Методичні рекомендації по оцінці допустимих рівнів радіонуклідного та хімічного забруднення за їх комбінованої дії. Київ: Фітосоціоцентр, 2006. 60 с.
Hrynchyshyn, N.M., Babadzhanova, O.F., & Sosedkos K.S. (2014). Fitotoksychnist naftozabrudnenykh hruntiv na prykladi kres-salatu Lepidium sativum L. [Phytotoxicity of oil-contaminated soils on the example of watercress Lepidium sativum L.]. Naukovyi visnyk NLTU Ukrainy - Scientific Bulletin of National Technical University of Ukraine, 24.10, 81-86.
Гринчишин Н.М., Бабаджанова О.Ф., Соседко К.С. Фітотоксичність нафтозабруднених грунтів на прикладі крес-салату Lepidium sativum L. Науковий вісник НЛТУ України. 2014. Вип. 24.10. С.81-86.
Hubachov, O.I. (2010). Osoblyvosti vykorystannia roslyn dlia biotestuvannia gruntiv z metoiu vyznachennia rivnia ekolohichnoi bezpeky promyslovykh terytorii [Peculiarities of using plants for biotesting of soils in order to determine the level of ecological safety of industrial areas]. Nauk. Visn. KUEITU. Novi tekhnolohii - Science Visn. KUWAIT. New technologies, 3(29), 164–171.
Губачов О.І. Особливості використання рослин для біотестування ґрунтів з метою визначення рівня екологічної безпеки промислових територій. Наук. Вісн. КУЕІТУ. Нові технології. 2010. № 3 (29). С. 164–171.
ISO 11269-2:2012. (2012). Soil quality — Determination of the effects of pollutants on soil flora — Part 2: Effects of contaminated soil on the emergence and early growth of higher plants. 19 p.
Ibrahimova, E.E., Balichyieva, D.V., & Aliiev, E.R. (2006). Ekolohichna i fitotoksychna otsinka zabrudnennia silskohospodarskykh hruntiv Kryma pestytsydamy ta soliamy vazhkykh metaliv [Ecological and phytotoxic assessment of contamination of Crimean agricultural soils with pesticides and heavy metal salts]. Ekolohiia ta noosferolohiia - Ecology and noospherology, 17(1–2), 117.
Ібрагімова Е.Е., Балічиєва Д.В., Алієв Е.Р. Екологічна і фітотоксична оцінка забруднення сільськогосподарських грунтів Крима пестицидами та солями важких металів. Екологія та ноосферологія. 2006. Т. 17, № 1–2. С.117.
Kendler, B.S., & Koritz, H.G. (1990). Using the Allium Test to Detect Environmental Pollutants. The American Biology Teacher, 52(6), 372-375.
Konovalenko, O.Ie., Sydorovych, M.M., Kovalova, Ye.H., & Kot, C.Iu. (2017). Zminy ristrehuliuiuchykh vlastyvostei pokhidnoho spirokarbonu v zalezhnosti vid riznykh kharakterystyk fitotestiv. Pryrodnychyi almanakh. Seriia: Biolohichni nauky - Natural almanac. Series: Biological Sciences, 24, 57-67.
Коноваленко О.Є., Сидорович М.М., Ковальова Є.Г., Кот C.Ю. Зміни рістрегулюючих властивостей похідного спірокарбону в залежності від різних характеристик фітотестів. Природничий альманах. Серія: Біологічні науки. 2017. Вип.24. С.57-67.
Kutsokon, N. (2010). Roslynni test-systemy dlia vyznachennia henotoksychnosti [Plant test systems for determining genotoxicity]. Visnyk NAN Ukrainy - Bulletin of the National Academy of Sciences of Ukraine, 4, 48-52.
Куцоконь Н. Рослинні тест-системи для визначення генотоксичності. Вісник НАН України. 2010. №4. С. 48-52.
Leme, D. M., & Marin-Morales, M. A. (2009). Allium cepa test in environmental monitoring: a review on its application. Mutation research, 682(1), 71–81.
Makarenko, N.A., & Makarenko, V.V. (2019). Nanotechnologies in crop cul tivation: Ecotoxicological aspects. Biosystems Diversity, 27(2), 148–155.
Marciulioniene, D., Lukšienė, B., Kiponas, D., Maksimov, G., Darginavičienė, J., & Gavelienė, V. (2007). Effects of 137Cs and 90Sr on the plant Lepidium sativum L. growth peculiarities. Ekologija, 53(1), 65-70.
Matoušková, M, Jurová, J, Gruľová, D, Wajs-Bonikowska, A, Renčo, M, Sedlák, V, Poráčová, J, Gogaľová, Z, & Kalemba, D. (2019). Phytotoxic Effect of Invasive Heracleum mantegazzianum Essential Oil on Dicot and Monocot Species. Molecules, 24(3), 425.
Monitorynh dovkillia [Environmental monitoring] (2010). [V.M. Boholiubov, M.O. Klymenko, V.B. Mokin et al.]; V.M. Boholiubov (Ed.). Vinnytsia, Ukraine: VNTU.
Моніторинг довкілля / [В.М. Боголюбов, М.О. Клименко, В.Б. Мокін та ін.]; під ред. В.М. Боголюбова. Вінниця: ВНТУ, 2010. 232 с.
Mosconi, N., Giulidori, C., Velluti, F., Hure, E., Postigo, A., Borthagaray, G., Back, D. F., Torre, M. H., & Rizzotto, M. (2014). Antibacterial, antifungal, phytotoxic, and genotoxic properties of two complexes of Ag(I) with sulfachloropyridazine (SCP): X-ray diffraction of [Ag(SCP)]n. ChemMedChem, 9(6), 1211–1220.
Mtisi, M., & Gwenzi, W. (2019). Evaluation of the phytotoxicity of coal ash on lettuce (Lactuca sativa L.) germination, growth and metal uptake. Ecotoxicology and Environmental Safety, 170, 750-762.
Nilṻfer, A., Serap, C., Senay, S., Dilek, Y., & Ӧzelm, Ӧ. (2008). Evaluation of clastogenicity of 4,6-Dinitro-o-cresol (DNOC) in Allium root tip test. J. Biol. Environ. SCL, 2, 59–63.
Ojeredov, S.P., Emec, A.I., Brycun, V.N., Ojeredova, I.P., Lozinskii, M.O., & Blyum Ya.B. (2009). Skrining novyh proizvodnyh 2,4- i 2,6-dinitroanilinov na fitotoksichnost' i antimitoticheskuyu aktivnost' [Screening of new derivatives of 2,4- and 2,6-dinitroanilines for phytotoxicity and antimitotic activity]. Citologiya i genetika - Cytology and genetics, 43(5), 3-13.
Ожередов С.П., Емец А.И., Брыцун В.Н., Ожередова И.П., Лозинский М.О., Блюм Я.Б. Скрининг новых производных 2,4- и 2,6-динитроанилинов на фитотоксичность и антимитотическую активность. Цитология и генетика. 2009. Т.43, № 5. С.3-13.
Olkhovych, O.P., & Musiienko, M.M. (2005). Fitoindykatsiia ta fitomonitorynh [Phytoindication and phytomonitoring]. Kyiv, Ukraine: Phytosocial Center.Ольхович О.П., Мусієнко М.М. Фітоіндикація та фітомоніторинг. Київ: Фітосоціоцентр, 2005. 64 с.
Pat. 2322669 S2 Rossiiskaya Federaciya, MPK7 G01N033/18, G01N033/24, G01N033/15. Sposob kompleksnogo biotestirovaniya vody, pochvy, biologicheski aktivnyh veschestv v fitotestah [Method for complex biotesting of water, soil, biologically active substances in phytotests] / Garipova, R.F.; zayavitel' i patentoobladatel' FGOU VPO «Orenburgskii gosudarstvennyi agrarnyi universitet». 2006108180/13; zayavl. 15.03.2006; opubl. 20.04.2008. Byul. № 11.
Пат. 2322669 С2 Российская Федерация, МПК7, G01N033/18, G01N033/24, G01N033/15. Способ комплексного биотестирования воды, почвы, биологически активных веществ в фитотестах / Гарипова Р.Ф.; заявитель и патентообладатель ФГОУ ВПО «Оренбургский государственный аграрный университет». 2006108180/13; заявл. 15.03.2006; опубл. 20.04.2008. Бюл. № 11.
Pausheva, Z.P. (1988). Praktikum po citologii rastenii. Moscow, USSR: Agropromizdat.Паушева З.П. Практикум по цитологии растений. Москва: Агропромиздат, 1988. 271 с.
Prohorova, I.M., Komarova, M.I., & Fomicheva, A.N. (2003). Ocenka mitotoksicheskogo i mutagennogo deistviya faktorov okrujayuschei sredy: Metodicheskie ukazaniya [Evaluation of mitotoxic and mutagenic effects of environmental factors: Guidelines]. Yaroslavl, Russian Federation: Yaroslavl State University.Прохорова И.М., Комарова М.И., Фомичева А.Н. Оценка митотоксического и мутагенного действия факторов окружающей среды: Методические указания. Ярославль: Яросл. гос. ун-т., 2003. 32 с.
Sharma, C.B. (1983). Plant meristems as monitors of genetic toxicity of environmental chemicals. Current science, 52(81), 1000—1002.
Smykun, N.V., & Furman, S.S. (2008). Biotestuvannia kolodiaznoi vody z vykorystanniam deiakykh roslyn rodyny Poaceae [Biotesting of well water using some plants of the Poaceae family]. Visn. Zaporizkoho nats. un-tu - Visn. Zaporozhye National university, 1, 183-185.
Смикун Н.В., Фурман С.С. Біотестування колодязної води з використанням деяких рослин родини Poaceae. Вісн. Запорізького нац. ун-ту. Запоріжжя. 2008. №1. С. 183-185.
Sujetovienė, G., & Griauslytė, L. (2008). Toxicity Assessment of Roadside Soil Using Wild Oat (Avena sativa L.) and Cress (Lepidium sativum L.) Morphometric and Biochemical Parameters. Environmental Research, Engineering and Management, 4(46), 29-35.
Taladrid, I.J., & Espinosa, M.B. (2021). Seeds of radishes (Raphanus sativus L.): observations of its morphology under electron microscopy, germination and usefulness for phytotoxicity studies. Polibotánica, n.51. P. 171-183.
Tkachuk, N.V., Yanchenko, V.O., Demchenko, A.M., & Sukhovieiev, V.V. (2012, liutyi 22-23). Ristrehuliuiucha aktyvnist syntetychnykh 5-zamishchenykh 4-amino-1,2,4-tryazol-3-tioliv shchodo prorostkiv Lepidium sativum L. [Growth-regulatory activity of synthetic 5-substituted 4-amino-1,2,4-triazole-3-thiols on seedlings of Lepidium sativum L.]. [Materialy konferentsii]. Aktualni pytannia pryrodnychykh nauk ta metodyky vykladannia, 2012 - Actual issues of natural sciences and teaching methods, 2012. Vseukrainska naukovo-praktychna konferentsiia (do 70-yi richnytsi z dnia narodzhennia naukovtsia i pedahoha I.I. Kocherhy). Nizhyn, Ukraine.
Ткачук Н.В., Янченко В.О., Демченко А.М., Суховєєв В.В. Рістрегулююча активність синтетичних 5-заміщених 4-аміно-1,2,4-триазол-3-тіолів щодо проростків Lepidium sativum L. Матеріали Всеукраїнської науково-практичної конференції «Актуальні питання природничих наук та методики викладання» (до 70-ї річниці з дня народження науковця і педагога І.І. Кочерги). (22-23-лютого 2012 р., м. Ніжин). Ніжин, 2012. С.38.
Tkachuk, N., Zelena, L., & Fedun, O. (2022). Phytotoxicity of the aqueous solutions of some synthetic surfactant-containing dishwashing liquids with and without phosphates. Environmental Engineering and Management Journal (EEMJ), 21(6), 965-970.
Tkachuk, N.V., Yanchenko, V.O., Sukhovieiev, V.V., Barchyna, O.I., & Demchenko, A.M. (2016, kviten 20-22). Toksychnist pokhidnykh symazynu shchodo Allium cepa L. [Toxicity of simazine derivatives to Allium cepa L.]. [Materialy konferentsii]. Suchasni ekolohichni problemy ukrainskoho Polissia ta sumizhnykh terytorii (do 30-yi richnytsi avrii na ChAES) - Modern Environmental Problems of Ukrainian Polissia and Adjacent Territories (to the 30th anniversary of the Chernobyl accident). Mizhnarodnа naukovo-praktychnа konferentsiia. Nizhyn, Ukraine.
Ткачук Н.В., Янченко В.О., Суховєєв В.В., Барчина О.І., Демченко А.М. Токсичність похідних симазину щодо Allium cepa L. Матеріали доповідей Міжнародної науково-практичної конференції «Сучасні екологічні проблеми українського Полісся та суміжних територій» (до 30-ї річниці аврії на ЧАЕС) (20-22 квітня 2016 р., м. Ніжин). С. 241-244.
Wierzbicka, M., Bemowska-Kałabun, O., & Gworek, B. (2015). Multidimensional evaluation of soil pollution from railway tracks. Ecotoxicology (London, England), 24(4), 805–822.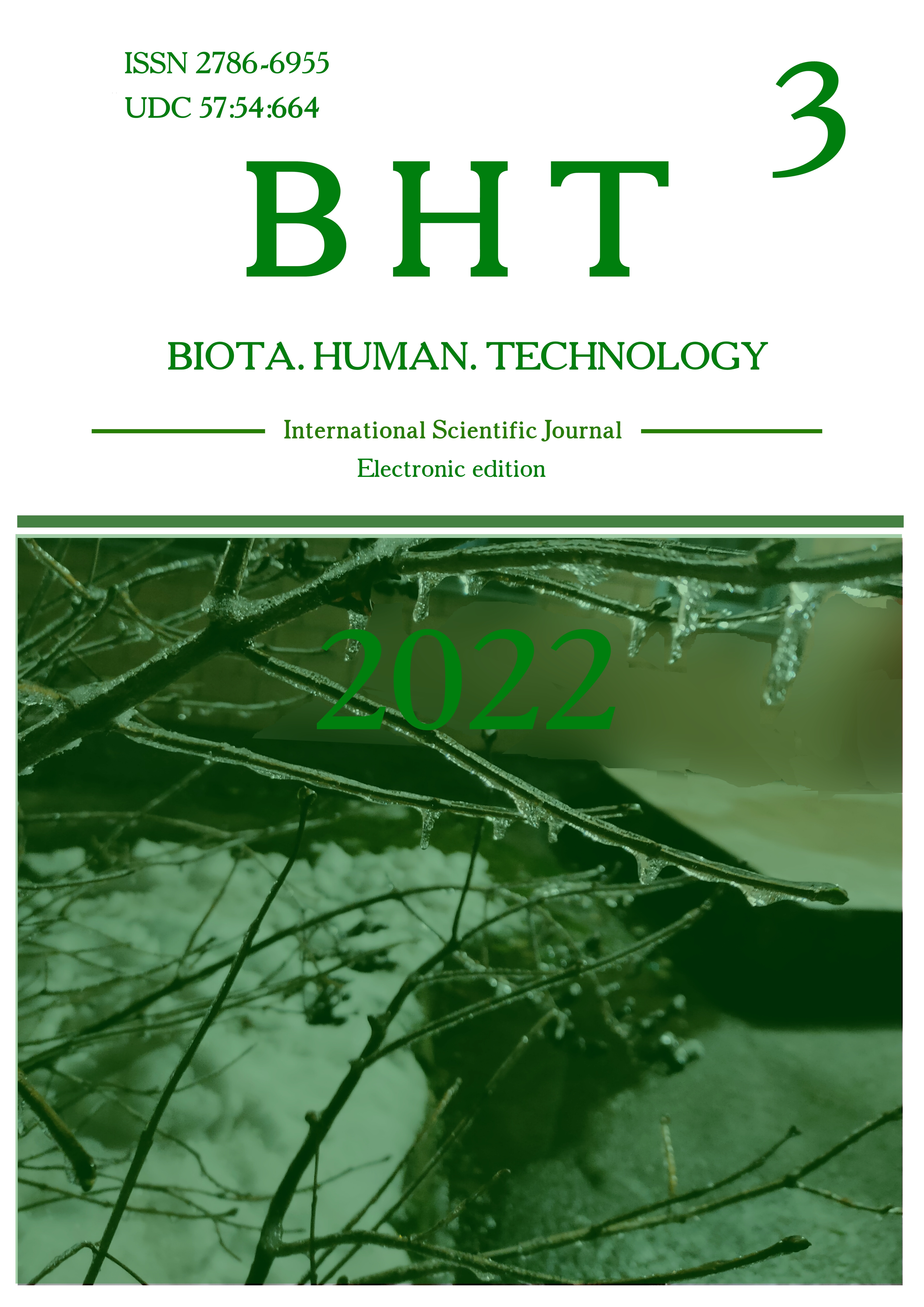 Downloads
Розділ
СТРЕСИ ЗАБРУДНЕННЯ ДОВКІЛЛЯ ТА РЕАКЦІЯ ОРГАНІЗМІВ
Ліцензія
Авторське право (c) 2023 Biota. Human. Technology
Ця робота ліцензується відповідно до Creative Commons Attribution-NonCommercial 4.0 International License.